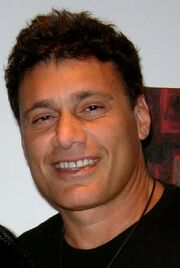 Steven Bauer (born Esteban Ernesto Echevarría Samson. December 2, 1956) is a Cuban-American actor. He is known for his role as Manny Ribera in the 1983 film Scarface, his role as Don Eladio in the AMC drama series Breaking Bad, and his role on the bilingual PBS show ¿Qué Pasa, USA?. He also played The Sandman in Scarface - The World Is Yours.
Ad blocker interference detected!
Wikia is a free-to-use site that makes money from advertising. We have a modified experience for viewers using ad blockers

Wikia is not accessible if you've made further modifications. Remove the custom ad blocker rule(s) and the page will load as expected.