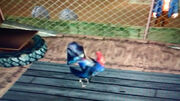 The 
Rooster 
is an animal that appears in 
Scarface - The World Is Yours
, they only appear when the player selects roosters during the 
bloodsport
 and they don't appear out of this, so it's assumed that all roosters are ilegally created for bloodsports in 
Miami
 and 
The Islands
, there are only two rooster models in the game, a red and a blue. The blue rooster is named Little Jerry, while the red rooster is named Big Papi.
Ad blocker interference detected!
Wikia is a free-to-use site that makes money from advertising. We have a modified experience for viewers using ad blockers

Wikia is not accessible if you've made further modifications. Remove the custom ad blocker rule(s) and the page will load as expected.