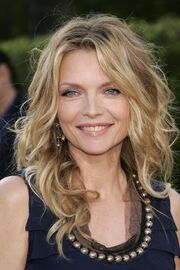 Michelle Marie Pfeiffer (born April 29, 1958) is a Golden Globe- and BAFTA-winning and Academy Award-nominated American actress. In a career spanning more than 25 years, she has starred in films such as Scarface, The Fabulous Baker Boys, Batman Returns, One Fine Day, Dangerous Minds, I am Sam, What Lies Beneath, Hairspray, Stardust, and Grease 2.
Michelle starred as Elvira Hancock in Scarface (film).
Ad blocker interference detected!
Wikia is a free-to-use site that makes money from advertising. We have a modified experience for viewers using ad blockers

Wikia is not accessible if you've made further modifications. Remove the custom ad blocker rule(s) and the page will load as expected.