Gangland is a secondary mission in Scarface - The World Is Yours.
Walkthrough
Edit
Tony Montana meets a Jamaican gangster at the Barfly Hotel and asks him what is happening there, the gangster insults him and tells him that they forcefully took over the hotel and transgenders and prostitutes are used for their own pleasure and Tony dislikes what they do, the gangster continue to insult Tony and then they start a shootout. Tony will have to kill all gangsters, including the leader in order to proceed the mission.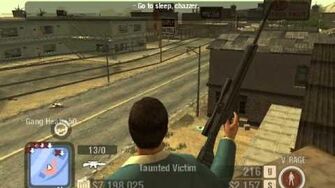 Ad blocker interference detected!
Wikia is a free-to-use site that makes money from advertising. We have a modified experience for viewers using ad blockers

Wikia is not accessible if you've made further modifications. Remove the custom ad blocker rule(s) and the page will load as expected.