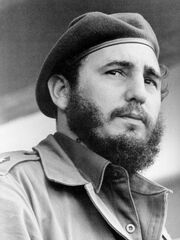 Fidel Alejandro Castro Ruz (August 13, 1926 - November 25, 2016) is the former president of Cuba. In the time of Scarface and in the movie, there were a lot of critics against Castro. When pressing the circle button on the controller while on the PS2 Scarface Game, Tony will sometimes say that he hopes Castro will trip over his beard and break his neck. 
Ad blocker interference detected!
Wikia is a free-to-use site that makes money from advertising. We have a modified experience for viewers using ad blockers

Wikia is not accessible if you've made further modifications. Remove the custom ad blocker rule(s) and the page will load as expected.