This article needs more images of:
All exotics


You can help by adding some relevant images or discussing changes on the talk page.
Please remove this template when images are added.
Note: Please remember to follow our rules in naming and licensing before adding images.
Exotics are a key mechanic in Scarface: The World Is Yours, they're unlocked once Tony reopens his bank account.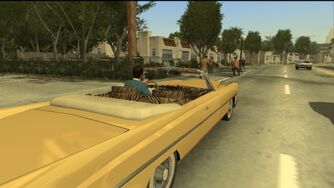 Each purchased exotic awards the player with
reputation
points, once a certain amount of points is gathered, the player will level up. This is required to progress through the game and unlock parts of the storyline and
fronts
, not to mention, most exotics have a use,
cars and boats
 are used to get around, henchmen can complete special missions, and investments unlock special bonuses.
Mansion
decorations, furniture and unique collectibles are different in that their use is purely aesthetic, the player may customize the mansion with them but can't use them for anything else (except for slot machines or video pokers). Mansion interiors are also considered exotics.
| | | | |
| --- | --- | --- | --- |
| Exotic | Description | Price | Reputation points given |
| Driver | The driver allows you to call for a car in Miami or the Islands. You can choose driver missions from the business page. | $15,000 | 11,000 |
| Boat Pilot | The Boat Pilot Enables you to call for any board you own when near the water. | $40,000 | 60,000 |
| Arms dealer | The Arms Dealer enables you to buy weapons over your phone. Weapons are delivered to your weapon locker and the trunk of your car. | $15,000 | 37,000 |
| Enforcer | The Enforcer comes with his own grenade launcher. You can choose Enforcer missions from the business page. | $30,000 | 40,000 |
| Assassin | The Assassin can do your dirty work for you. You can choose assassin missions from the business page. | $100,000 | 200,000 |
| | | | |
| --- | --- | --- | --- |
| Exotic | Description | Price | Reputation points given |
| QM Convertible | | Free | 100 |
| Bandit ST | | $10,000 | 2,400 |
| Orient YV | | $12,000 | 3,000 |
| Stretch Limousine | Call for your limo, then select your destination and relax in style. Very useful for getting to and from your mansion. | $250,000 | 20,000 |
| GPV Offroad | | $14,000 | 1,000 |
| Santa Monica | | $15,000 | 2,000 |
| Monterery Shark | | $24,000 | 3,000 |
| Caballo El Ray | | $16,000 | 1,500 |
| Lakota Fastback | | $40,000 | 1,500 |
| Mojave | | 28,000 | 5,000 |
| Tomahawk SS | | $18,000 | 5,000 |
| GS Wolhabend | | $45,000 | 20,000 |
| Lightning | | $25,000 | 25,000 |
| Delphine | | $50,000 | 40,000 |
| Conick N29 | | $70,000 | 20,000 |
| Ambassador | | $180,000 | 140,000 |
| Fellini | | $190,000 | 60,000 |
| Panther | | $80,000 | 45,000 |
| Brahma | | $120,000 | 55,000 |
| Bacinari | | $460,000 | 240,000 |
| Pumah | | $65,000 | 100,000 |
| Stampede | | $200,000 | 150,000 |
| Rattler | | $3,000,000 | 400,000 |
| Albatross | | $675,000 | 250,000 |
| Ariel MK III | | $1,200,000 | 290,000 |
| Odin VH88 | | $160,000 | 50,000 |
| Whiskey Ghost | This one of a kind, gold-plated antique limo was once owned by Al Capone. It is irreplaceable | $10,000,000 | 2,000,000 |
| MPD Cruiser | | $200,000 | 200,000 |
| Bulldozer | | $250,000 | 100,000 |
| Bodog Stampede | | $8,000,000 | 400,000 |
Boathouse
Edit
| | | | |
| --- | --- | --- | --- |
| Exotic | Description | Price | Reputation points given |
| Powerboat | | Free | 100 |
| Jet Boat | | $10,000 | 4,600 |
| Picklefork | | $53,000 | 25,000 |
| Antique Trickraft | | $35,000 | 45,000 |
| Floatplane | Call for your floatplane, then select your destination and relax in style. Very useful for getting to and from the islands. | $350,000 | 60,000 |
| Cigarette Boat | | $160,000 | 180,000 |
| Attack Boat | | $35,000 | 30,000 |
| Fan Boat | | $4,000 | 5,000 |
| Sports Fishing Boat | | $350,000 | 120,000 |
| Racing Boat | | $750,000 | 250,000 |
| Cigarette Gun Boat | | $1,000,000 | 250,000 |
| Yacht | | $4,000,000 | 1,000,000 |
| | | | |
| --- | --- | --- | --- |
| Exotic | Description | Price | Reputation points given |
| Renovate | Restore the mansion to its original, classic look. | $25,000 | 47,000 |
| Modern | Change the look of the mansion. | $400,000 | 100,000 |
| Eclectic | Change the look of the mansion. | $400,000 | 300,000 |
Unique Collectibles
Edit
| | | |
| --- | --- | --- |
| Exotic | Price | Reputation points given |
| Manny's remains. | $8,000 | 10,000 |
| Gina's remains. | $8,000 | 19,000 |
| Modern Art | $147,000 | 90,000 |
| Authentic Spacesuit | $1,000,000 | 750,000 |
| Inca Gold | $1,600,000 | 450,000 |
| Genghis Khan Armor | $2,000,000 | 1,000,000 |
| Easter Island Head | $16,000,000 | 2,000,000 |
| Apollo Space Capsule | $20,000,000 | 2,500,000 |
| King Tut Sarcophagus | $28,000,000 | 4,000,000 |
| The Liberty Bell | $22,000,000 | 3,000,000 |
| The Faith Diamond | $18,000,000 | 3,000,000 |
Furniture
Edit
| | | | |
| --- | --- | --- | --- |
| Exotic | Price | Reputation points given | Notes |
| Liquor Cabinet | $7,000 | 8,000 | |
| Comfy Chair | $2,000 | 1,000 | it can't be sat on |
| Cigar Stand | $4,000 | 5,000 | |
| Jukebox | $3,000 | 4,000 | It doesn't play music. |
| Projection TV | $55,000 | 45,000 | it doesn't turn on |
| Vending Machine | $2,500 | 3,000 | |
| Liquor Display | $4,500 | 5,000 | |
| Antique Comfy Chair | $41,000 | 20,000 | you can't sit down in it |
| Drink Machine | $2,000 | 4,000 | |
| Beer Cooler | $1,000 | 2,000 | |
| Grand Piano | $120,000 | 50,000 | it can't be played |
| Humidor | $80,000 | 68,000 | |
| Phone Booth | $2,000 | 5,000 | Very hard to position it |
| Marble Bench | $15,000 | 12,000 | it can't be sat on |
| Hardwood Chair | $35,000 | 40,000 | it can't be sat on |
| Slot Machine | $6,000 | 10,000 | It's fully playable |
| Chaise Lounge | $450,000 | 250,000 | it can't be sat on |
| Video Poker | $8,000 | 5,000 | It's fully playable |
| | | | |
| --- | --- | --- | --- |
| Exotic | Price | Reputation points given | notes |
| Pelican | $700 | 2,000 | |
| Bong | $2,000 | 1,000 | |
| Stuffed Tiger | $24,500 | 60,000 | |
| Exotic Fern | $500 | 2,000 | |
| Vintage Wine | $8,000 | 11,000 | |
| Marble Statue | $10,000 | 5,000 | |
| Tropical Plant | $3,000 | 1,000 | |
| Bronze Bust | $15,000 | 19,000 | |
| Pizza Man | $4,000 | 6,000 | |
| Solid Gold Pelican | $120,000 | 68,000 | |
| Giant Liquor Bottle | $85,000 | 120,000 | |
| Flowers | $1,000 | 2,000 | |
| Cognac Fountain | $300,000 | 600,000 | |
| Solid Gold Bust | $1,000,000 | 350,000 | |
| Exotic Palm | $11,000 | 5,000 | hard to place |
| Genuine Ming Vase | $1,000,000 | 1,555,000 | |
| Inca Mummy | $450,000 | 550,000 | |
| Solid Gold Tiger | $3,000,000 | 2,550,000 | |
Investments
Edit
| | | | |
| --- | --- | --- | --- |
| Exotic | Description | Price | Reputation points given |
| Montana Records | Unlocks new music tracks and creates a new playlist. | $100,000 | 61,000 |
| Montana Holdings | Fronts will cost you 10% less to purchase. | $2,000,000 | 40,000 |
| Montana Fitness | All of your henchmen gain 50% health. | $1,500,000 | 200,000 |
| Montana Productions | Unlocks all of Tony's Clothing options in the cheat menu. | $1,200,000 | 443,000 |
| Montana Legal | Visibility events reduced by half (cops look the other way). | $40,000,000 | 700,000 |
| Montana Sports | Maximum bets go up for all your gambling. | $20,000,000 | 2,000,000 |
| Montana Financial | Launder all of your cash with 0% interest. | $50,000,000 | 3,000,000 |
| Montana Defence | Carry an extra weapon and maximum ammunition. | $60,000,000 | 5,000,000 |