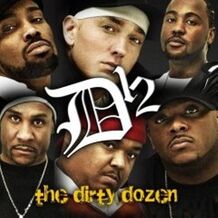 D12 are a rapping group who play a song in Scarface: The World Is Yours. The player needs to buy Montana Records from Exotics catalog.
D12, also known for The City Dozen, is an American hip hop group from Detroit, Michigan. They had one song in the game Scarface: The World Is Yours. D12 has had chart-topping albums in the United States, United Kingdom, and Australia. D12 was formed in 1996, and achieved mainstream success after Eminem rose to international fame. D12 released the album Devil's Night in 2001 and D12 World in 2004, spawning numerous hits such as "Fight Music", "Purple Pills", "My Band", "How Come" and "Gonna get my Gun" throughout that period. Since 2006, Eminem's hiatus and the death of the member Proof resulted in them being less active in subsequent years.
The song they have in Scarface game is "Gonna get my Gun".
Ad blocker interference detected!
Wikia is a free-to-use site that makes money from advertising. We have a modified experience for viewers using ad blockers

Wikia is not accessible if you've made further modifications. Remove the custom ad blocker rule(s) and the page will load as expected.