"I carve him up real good"
―Mission description
Coco's Lounge and Disco 
is the final front in the game and it's located in 
North Beach
.
Description
Edit
Tony talks to the manager, saying that Coco said that she wants to sell the place, the manager said that her daughter got involved with the Gaspar gang and she needs them out of the club, Tony then go protect the club from them all, he heads to the roof and takes a Sniper Rifle to kill the first sniper, he comes back to protect the club and then he comes back to kill another sniper, he protects the club again and kill another sniper, but a Helicopter shows up, Tony has the option of destroying the helicopter with a Missile Launcher, after the helicopter is destroyed, another sniper shows up in the top of a building, this one can be killed using the missile launcher, Tony will then kill the last set of goons, the manager then agrees to sell the club for $13,000,000
Mission Walkthrough video
Edit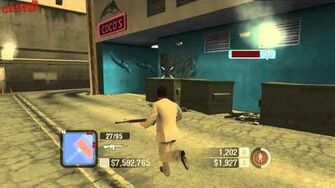 Ad blocker interference detected!
Wikia is a free-to-use site that makes money from advertising. We have a modified experience for viewers using ad blockers

Wikia is not accessible if you've made further modifications. Remove the custom ad blocker rule(s) and the page will load as expected.