"You know what capitalism is? Gettin' fucked."
―Mission description
Cabana Cigar is a cigar shop which is bought by Tony for $75,000 as a front. An old accountant of the manager ran off with important papers with some goons protecting her. Tony goes to a nerby jetty, gets on a
boat
, retrieves the papers while giving chase and guns her down. Afterwards, Tony returns the papers, and buys Cabana Cigar.
Mission Reward
Edit
Reputation: +5,020
Balls: +10
Total Cash: +10,000
Mission Walkthrough video
Edit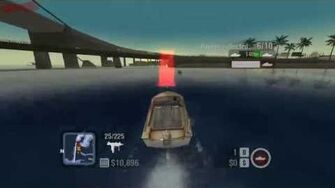 Ad blocker interference detected!
Wikia is a free-to-use site that makes money from advertising. We have a modified experience for viewers using ad blockers

Wikia is not accessible if you've made further modifications. Remove the custom ad blocker rule(s) and the page will load as expected.