Babylon Club Redux is the seventh storyline mission in Scarface - The World Is Yours, it is unlocked as soon as Tony buys all the Little Havana fronts.
Walkthrough
Edit
Tony heads to the Babylon Club, takes a seat and keep asking himself if it's all about killing, driving, dealing and swearing, while he is complaining about this, Octavio the Clown and a Stripper and some other people pulls out their guns and attempt to kill Tony, they start a shootout, after Tony kills all the goons, there is one of them who survived, he throws him in the wall and asks him who sent them all, after interrogating, the guy says that the Diaz Brothers sent them all and also tells Tony that they killed his mother, Tony gets angry and shoots the guy in the head twice.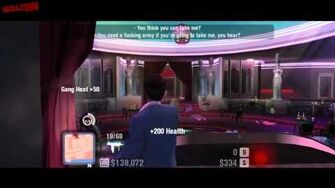 Ad blocker interference detected!
Wikia is a free-to-use site that makes money from advertising. We have a modified experience for viewers using ad blockers

Wikia is not accessible if you've made further modifications. Remove the custom ad blocker rule(s) and the page will load as expected.