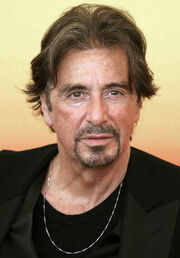 Alfredo "Al" James Pacino (born April 25, 1940) is an Academy Award-, Golden Globe-, Tony-, BAFTA-, Emmy- and SAG award-winning American film and stage actor and director, widely considered to be one of the greatest and most influential actors of all time. He is well known for his roles as Michael Corleone in The Godfather trilogy, Tony Montana in Scarface, Lieutenant Colonel Frank Slade in Scent of a Woman and Carlito Brigante in Carlito's Way.
Ad blocker interference detected!
Wikia is a free-to-use site that makes money from advertising. We have a modified experience for viewers using ad blockers

Wikia is not accessible if you've made further modifications. Remove the custom ad blocker rule(s) and the page will load as expected.